This week we had an opportunity to speak to a group of seniors. They were students who had been learning English for 1-2 years. There were approximately 10 students in the class. Some of the students had even done research on Spartanburg before we arrived. A few of the the students had notes and questions written down for us. The presentation was also open to the public so people other than the students could come if they wanted to.
We prepared for the class by making a PowerPoint presentation. We told the class a little bit about ourselves and our lives. We told them about Spartanburg and the things to do there. We included 2 slides about Upstate and let them know about the degree programs, tuition cost, and student activities. The most important part of the presentation was the part in which we compared the daily lives of Americans vs. the daily lives of Germans. They were very interested in this topic. In Germany it is very common to ride bikes or take public transportation while we drive. There are also many small specialty shops here unlike at home when we frequent Target or Wal-Mart. We made sure to include a lot of pictures into the presentation so they could follow along easily.
They had some great questions for us and we were able to talk about the stereotypes that Germans have of Americans (though the word stereotype is rude here so we said misconceptions). They said they thought of McDonalds, how polite we are, and how proud we are. They asked us about our healthcare system, our daily lives, and why we are in Stendal. There were also two reporters there from the local newspapers. They took photos and wrote articles that came out in the paper on Saturday. It was a great experience and we were happy to share about our culture.
-Brittney

This is one of the articles in the paper about us. The wind was blowing really bad so the picture is not that great.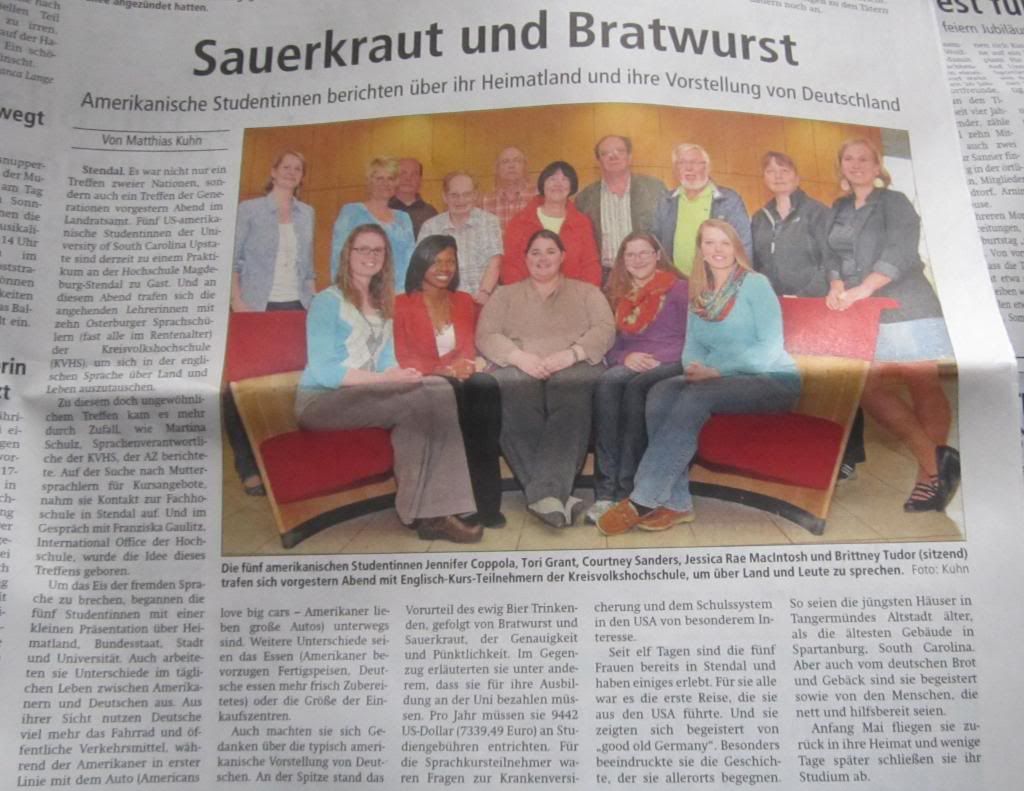 The second time we were in the paper in one day!