This past weekend we spent Saturday (April 20th) and Sunday (April 21st) in Berlin! We left around 10:00 Saturday morning to take the train into Berlin with Sally. We finally reached the Berlin Hauptbahnhof (the large train station) around noon. Some of us were talking about how much our perspective has changed since our first day here in Germany. When we first arrived we had to travel to the Hauptbahnhof to get on our train to Stendal. We were all definitely overwhelmed, and scared. As we were walking through this past weekend we were much more accustomed to all the people, the schedules, and just the atmosphere around us. It's great to see our different feelings of the culture around us, even after just three weeks.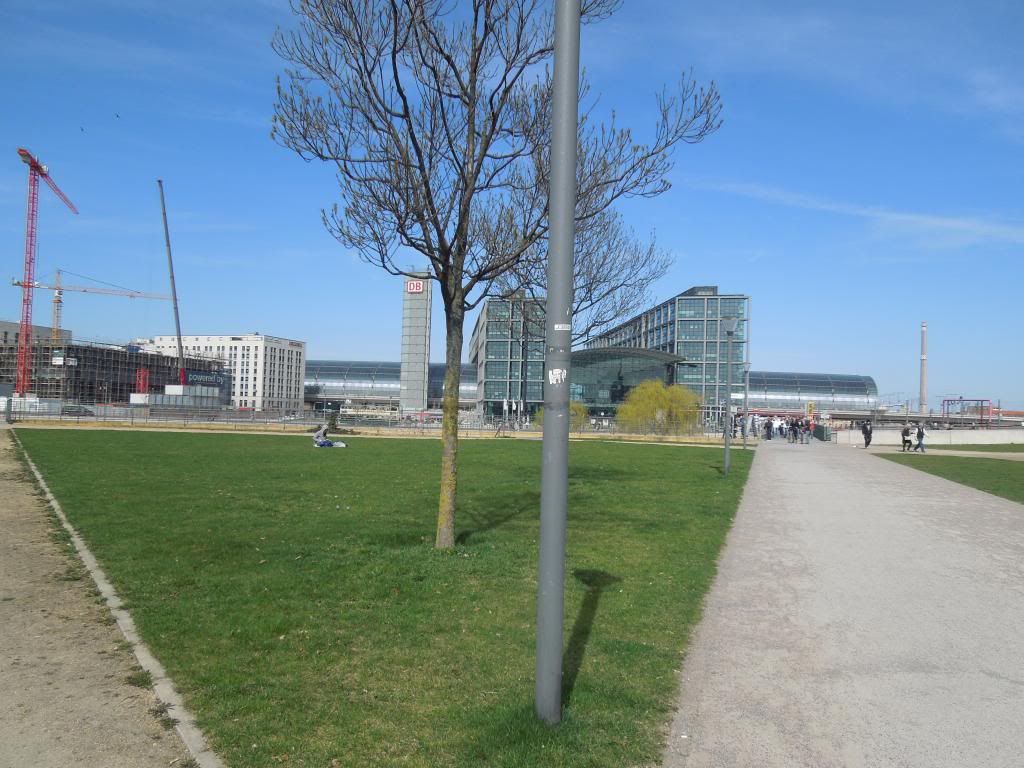 The Berlin Hauptbahnhof.
After buying our passes for all of our transportation over the weekend, we headed out to go look around. Our first stop was at the government building. We were amazed at the building and the intricate details incorporated into the structure. The building has so many pictures and figures carved into it; there is no way you can look at them all.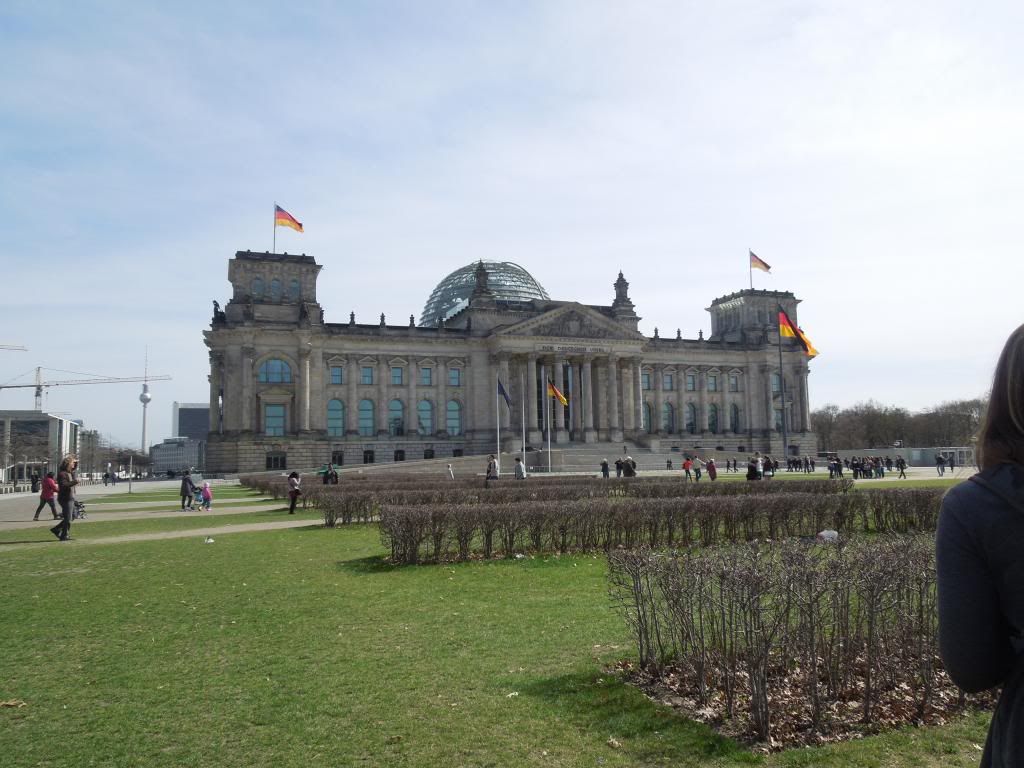 The government building.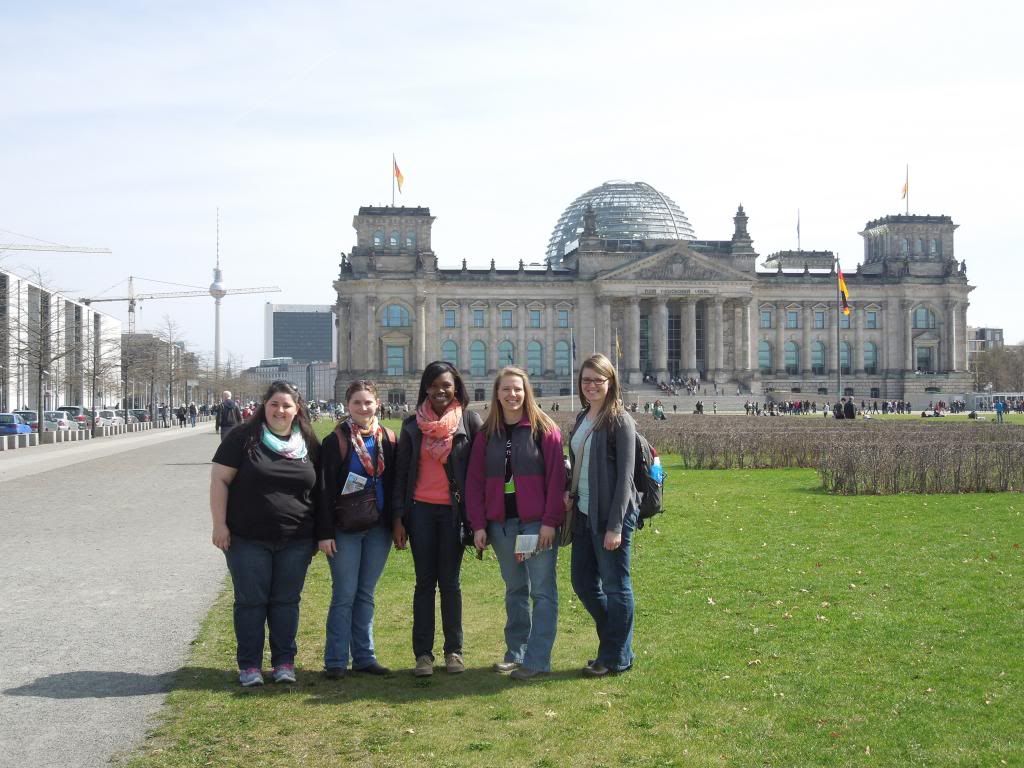 Us in front of the building.
After a little bit more walking we were finally at the Brandenburger Tor (Brandenburg Gate). Tanja met up with us here, and we were off to try and get a few good pictures. There were tons of people there, but we managed to get a few pictures. We walked under the gate and it was such a surreal feeling. We knew that we would be in a very historic city when entering Berlin, but I do not think we were prepared for how much it would move us. We had just walked under a significant piece of history that many of our peers will never get to see in person.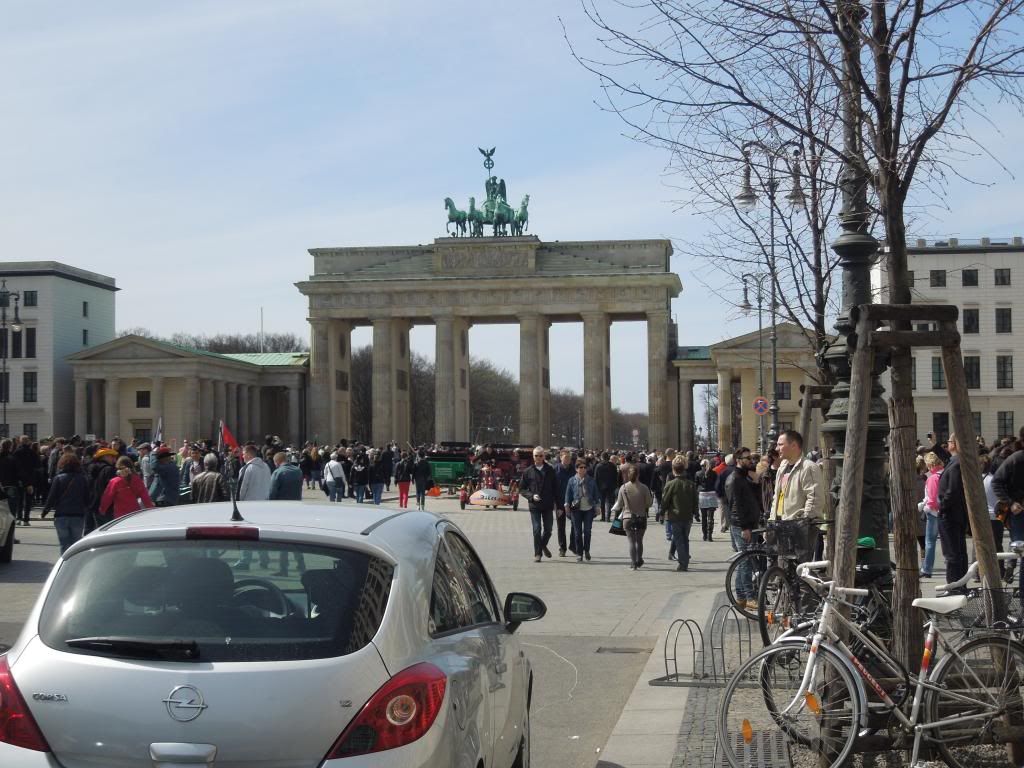 The Brandenburger Tor.
We were very close to Holocaust Memorial and headed towards it. Once we arrived we were very confused. It is a hilly area, with lots of concrete slabs that are different heights, in different areas. After looking up some history, we realized that this was the goal of the engineers and architects who designed the memorial. They wanted visitors to be confused and uneasy to give the feeling of how times felt during the Holocaust.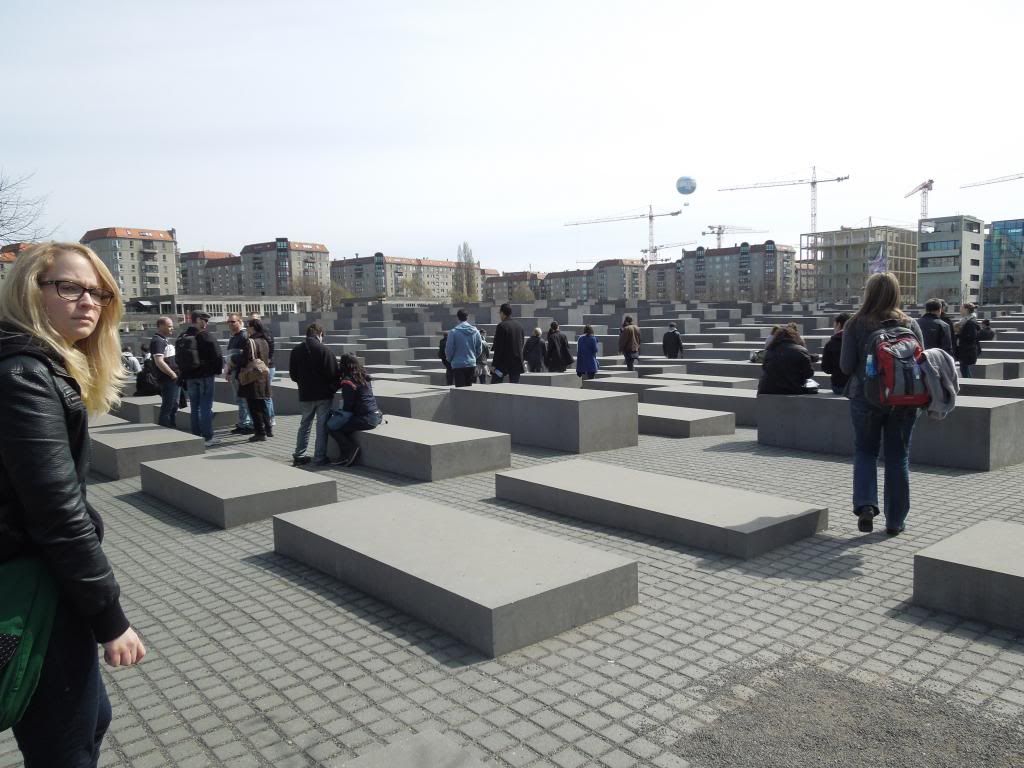 The confusing Holocaust Memorial in Berlin.
Soon we were heading towards the Golden Lady (The Victory Tower). What we thought was a quick walk, ended up being about a two mile stretch. By the time we reach the tower we were all tired of walking so we stopped to take a few pictures of us with tower. Sally and Tanja explained to us that the lady is the symbol of victory; however where she is located now is not her original home. The tower used to be located in the Königsplatz, however in 1939 the Nazis relocated it to present location in the Groβer Stern.

Us five at The Victory Tower.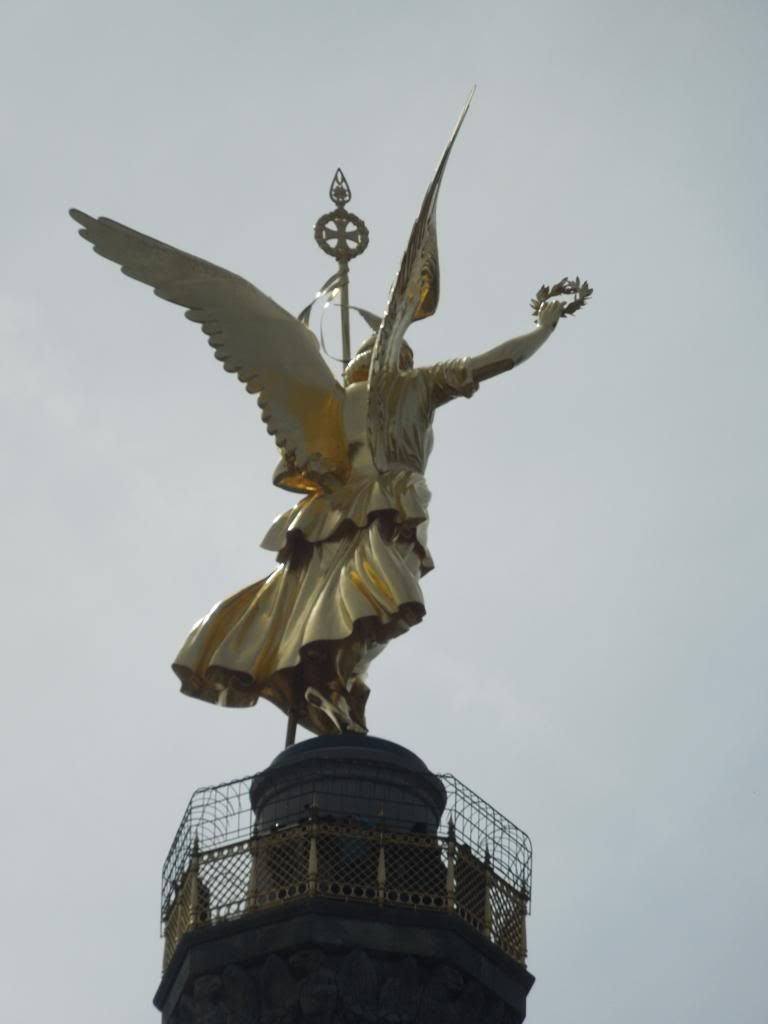 A close up of the Golden Lady.
On the way to check into our hostel we passed by Bellevue, which is the home of Joachim Gauck, the President of Germany. It has only been the place of residence for the President since 1994, and was actually constructed as a residence for Prince Augustus Ferdinand of Prussia. It also was the first neoclassical building in Germany.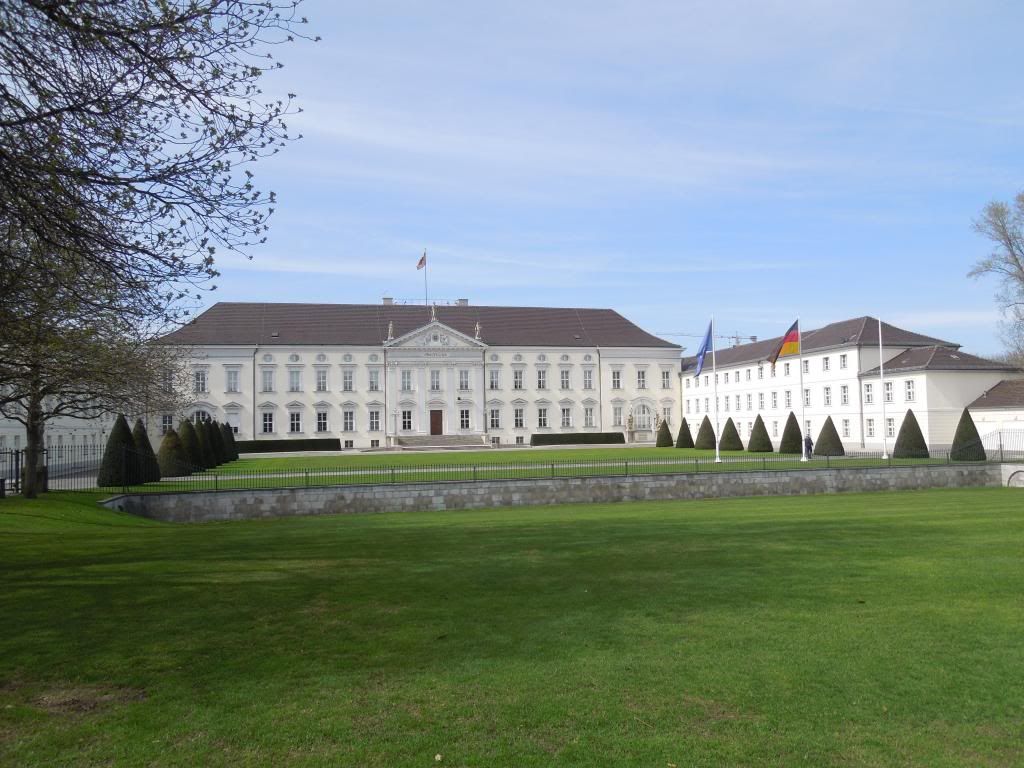 The Bellevue Palace.
We headed to Alexanderplatz to check into our hostel and then headed to Potsdamerplatz. We experienced the subway here (which was very uneasy and shaky for most of us!) and did a little shopping in a close by shopping mall. We even had supper at an American diner! YAY for nachos and cheeseburgers! We all were getting tired so we headed back to the hostel to get some rest. We realized that our hostel was much like a dorm room with three bunk beds, one small bathroom, and a few storage bins!
We woke on Sunday morning and grabbed some breakfast at the hostel and headed out for the day. We caught the subway and headed to another part of town. We were sure where Sally was taking us but we soon realized we were at the East Side Gallery, the longest stretch of the Berlin Wall left that has been turned into an alternative art gallery. We walked down looking at most of the art and came to a break in the wall. We casually walked to the West side to see what the other side looked like. I, and most of the other girls, suddenly realized that what we just did was impossible and unthinkable a little over 20 years ago. We had just done something that got many people killed not that many years ago. It's a sobering thought to know we crossed and touched such a large part of history…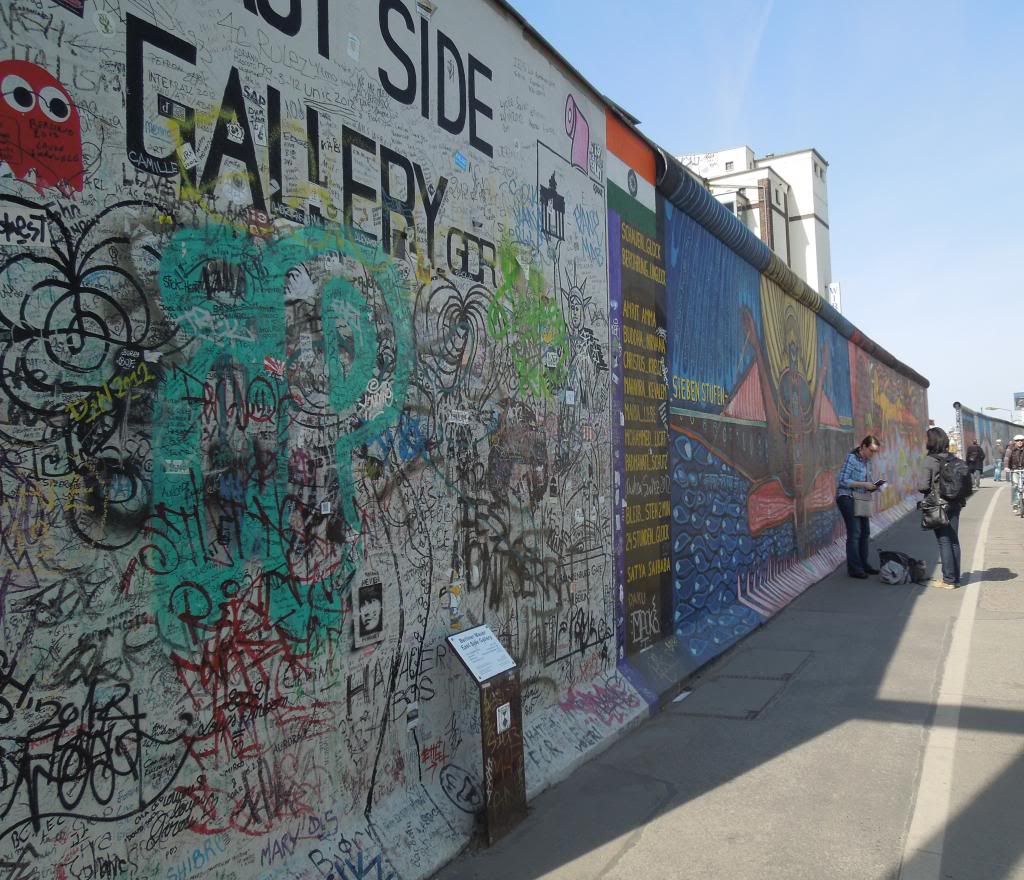 The first part of the East Side Gallery of the Berlin Wall.

Us five at the Berlin Wall.

Jennifer and I touching the Berlin Wall.
We headed to Checkpoint Charlie to take a look around. Checkpoint Charlie was the crossing point between East and West Berlin during the Cold War. We took a few pictures and headed to grab a bite to eat.

Checkpoint Charlie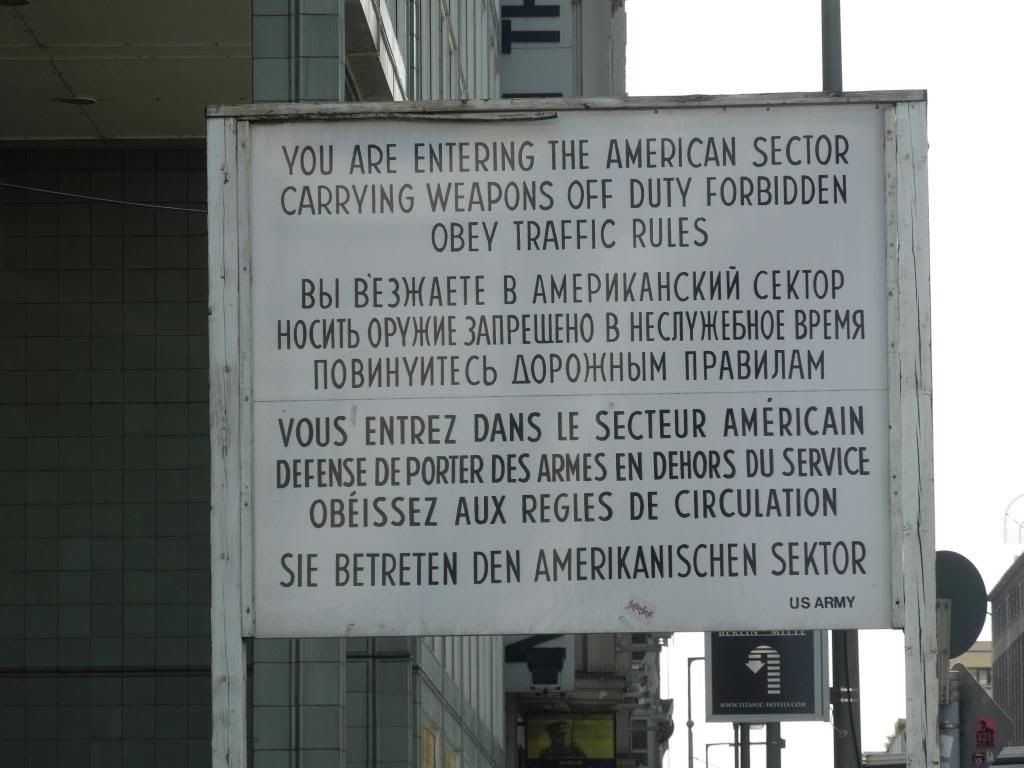 The sign we saw all around Berlin, and then realized it was used at Checkpoint Charlie.
Lastly we headed for something fun that none of us had experienced to end our trip in Berlin. Madame Tussaud's Wax Museum! None of us had ever been to a wax museum before and were kind of skeptical. It is very unnerving to the staring into the eyes of something that looks like a "person" and hard to not be afraid they are suddenly going to grab you and yell! However we had tons of fun, and even learned a bit more about Germany's history!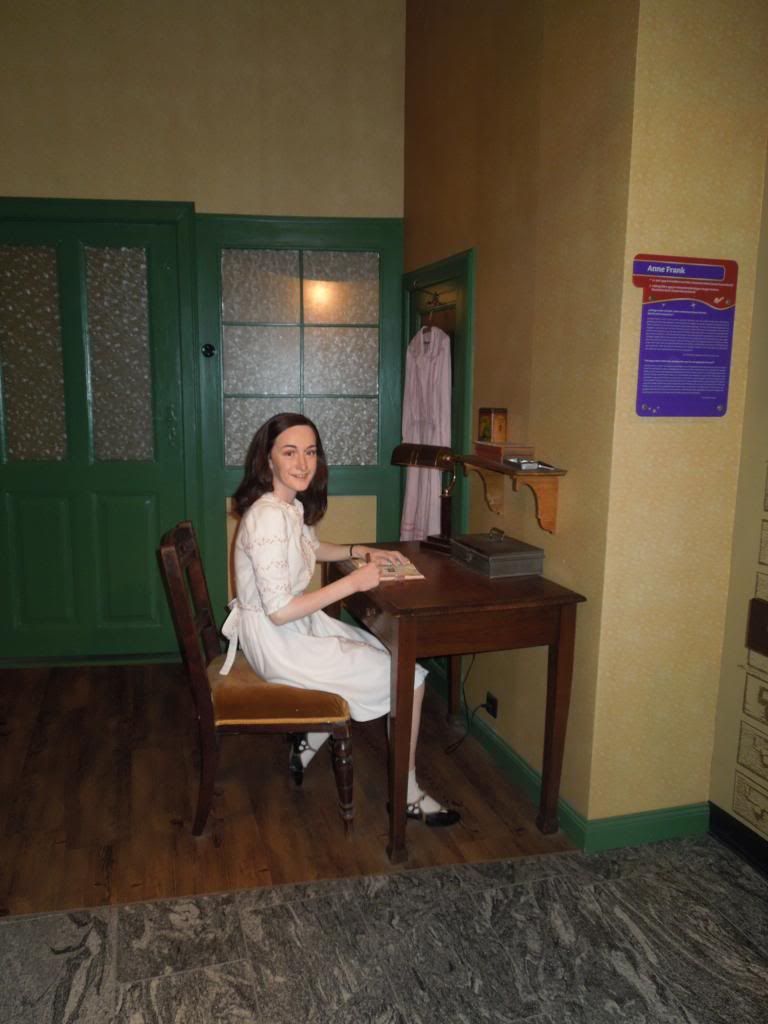 Anne Frank at the wax museum.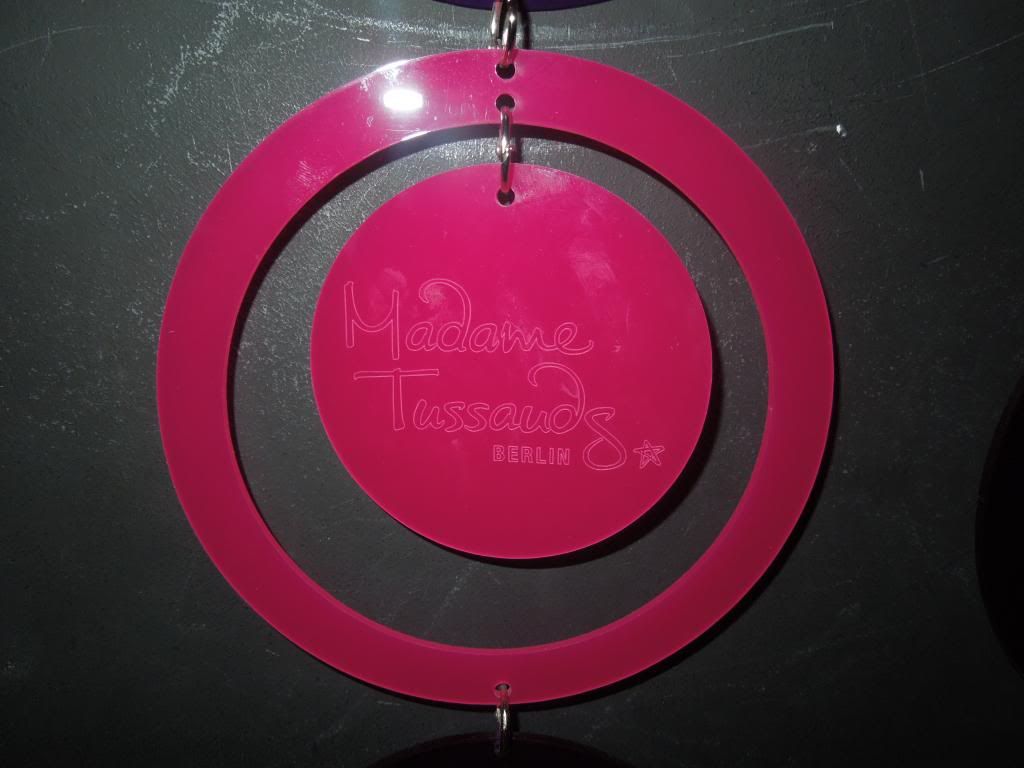 We headed back to Stendal to relax after our long weekend. We were all overwhelmed from the amount of history we learned this weekend, but also elated that we were able to experience such a humbling place!
-Courtney